EAW Hall of Fame Championship
Details
Current champion
Xavier Williams
Date won
February 27th, 2016
Promotion
Elite Answers Wrestling
Brand(s)
Elite Answers Wrestling
Date created
March 2014
Date retired
N/A
Formerly
N/A
Past design(s)
N/A
Statistics
First champion
Jaywalker
Most reigns
Cameron Ella Ava (2)
Most defenses
Dark Demon (8)
Longest reign
Dark Demon (8 months)
Shortest reign
Cameron Ella Ava (1 month)
The EAW Hall of Fame Championship is a professional e-wrestling championship in Elite Answers Wrestling (EAW). It is an interbranded championship that is able to be compete across the three brands of EAW, only if you have become inducted in the Hall of Fame. It was first established in March 2014 when Hall of Famer Jaywalker created the championship on an episode of Dynasty.
On an episode of Dynasty, Jaywalker created the Hall of Fame Championship and deemed that to compete for the Hall of Fame Championship, you must be a member of the Hall of Fame, implied by the title.
Prominence
Edit
Jaywalker defended the championship, even facing in an epic encounter at Pain for Pride Seven where he defended the championship against Hall of Famer, Heart Break Boy, in a heavily personal and emotional contest. At Midsummer Massacre VI, Cameron Ella Ava was able to defeat Jaywalker, barring him from competition inside an EAW ring and forcing his retirement.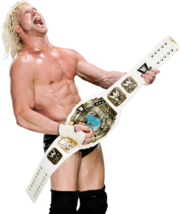 The inaugural champion was Jaywalker as he was awarded the championship by himself as he created it on an episode of Dynasty. There have been two (2) champions to hold the belt, with both holding the most reigns with one. The longest reigning champion is Dark Demon, holding the championship for eight (8) months (between Pain For Pride Eight and Reasonable Doubt). The shortest reigning champion was Cameron Ella Ava, holding the championship for one (1) month (between Triple Threat and Pain for Pride Eight). The current EAW Hall of Fame Champion is Xavier Williams in his first tenure as champion, who defeated Dark Demon at Reasonable Doubt in a Hell in a Cell Match.
Title History
Edit
| | |
| --- | --- |
| Reign | The reign number for the specific set of wrestlers listed |
| # | Indicates what number the reign is |
| Event | The event promoted by the respective promotion in which the titles were won |
| N/A | The information is not available or is unknown |
| — | Used for vacated reigns so as not to count it as an official reign |
| Name | Span of Time |
| --- | --- |
| EAW Hall of Fame Championship | March 2014 - Present |
As of December 18, 2018.
† indicates reigns and title changes not recognized by EAW.
| # | Extremist | Reign | Defeated | Event | Lost to | Notes |
| --- | --- | --- | --- | --- | --- | --- |
| 1 | Jaywalker | 1 | N/A | Dynasty | Cameron Ella Ava | First Hall of Fame Champion. Created the championship and awarded it to himself. |
| 2 | Cameron Ella Ava | 1 | Jaywalker | Midsummer Massacre | Scott Diamond | This was a Loser Leaves Town Match. |
| 3 | Scott Diamond | 1 | Cameron Ella Ava | Reckless Wiring | Cameron Ella Ava | This was an I Quit Match. |
| 4 | Cameron Ella Ava | 2 | Scott Diamond | Triple Threat | Dark Demon | This was a No Disqualification Match. |
| 5 | Dark Demon | 1 | Cameron Ella Ava and Heart Break Boy | Pain for Pride Eight | Xavier Williams | |
| 6 | Xavier Williams | 1 | Dark Demon | Reasonable Doubt | N/A | This was a Hell in a Cell Match. Current Hall of Fame Champion. |
Title Defenses
Edit
| # | Champion | Defense | Defeated | Event | Notes |
| --- | --- | --- | --- | --- | --- |
| 1 | Jaywalker | 1 | Alex Anderson | Dynasty | First Hall of Fame Champion. Created the championship and awarded it to himself. |
| 2 | Jaywalker | 2 | Cameron Ella Ava | Dia Del Diablo | Branding Match |
| 3 | Jaywalker | 3 | The Heart Break Boy | Pain For Pride | I Quit Match |
| 4 | Cameron Ella Ava | 1 | Kendra Shamez | Territorial Invasion | |
| 5 | Cameron Ella Ava | 2 | Tarah Nova | Road to Redemption | Retained by disqualification |
| 6 | Cameron Ella Ava | 3 | Tarah Nova | King of Elite | Ladder Match |
| 7 | Cameron Ella Ava | 4 | The Heart Break Boy | Voltage Supershow(Dishonorable Justice) | Scott Diamond caused disqualification |
| 8 | Scott Diamond | 1 | The Heart Break Boy | Voltage | Cameron cost Heart Break Boy the match and Scott retained. |
| 9 | Cameron Ella Ava | 1 | Dark Demon | Voltage | Special guest referee The Heart Break Boy. Watch was thrown out/no contest |
| 10 | Dark Demon | 1 | The Heart Break Boy | Midsummer Massacre(2015) | Won via knockout. |
| 11 | Dark Demon | 2 | Diamond Cage | Showdown: Redemption | Cage of Death Match |
| 12 | Dark Demon | 3 | Tyler Porker | Showdown (December 12th Edition) | Hall of Fame Championship Open Challenge |
| 13 | Dark Demon | 4 | Jesus Christ | EAW Awards Show 2015 | Hall of Fame Championship Open Challenge |
| 14 | Dark Demon | 5 | Big E Lannister | Showdown (January 2nd Edition) | Hall of Fame Championship Open Challenge |
| 15 | Dark Demon | 6 | Alex Anderson | Showdown (January 9th Edition) | Hall of Fame Championship Open Challenge |
| 16 | Dark Demon | 7 | Hades the Rick Riser | Showdown (January 16th) | Hall of Fame Championship Open Challenge |
| 17 | Dark Demon | 8 | Bubba Ray Styles, Devon Russo and Little Runt Bailey | Showdown(January 23rd) | Hall of Fame Championship Open Challenge tag team match, Demon's partners were the Muffin Man and the Ginderbread Man |